Creator Chris Antista
Chris has always been a close friend of our family, so having him help us build our first retail space has been really special. Growing up, I remember trips out to his Brooklyn house and different restaurants -- each one being a little funkier than the next. Whether it be opening up a speakeasy style bar in a hotdog restaurant or customizing his own homes with unique thrift store finds, Chris's ideas are never ending. Check out the story below to find out more about Chris Antista, and how we built our Brookfield Pop-Up. It's worth the read!
People often think that a professional company was hired to build out our Brookfield Pop-Up. To give our readers a little backstory, tell us about your experience with creating spatial environments prior to Fair Harbor?
I've created several 'spatial environments' throughout my design career. Along the way I have learned to tune into human beings and their habits when creating a space to: work in, hang out in, drink in, eat in, laugh in, love in etc. Though the specific purpose of a space may be singular when being contracted to build something, as humans, we continue to be humans and think like humans when in said space. Therefore, a designer must please many masters - those masters being emotions. Lansky Lounge was my first concept/design/build experience. The object was to transport people to a 40s speakeasy/nightclub vibe. If you are lucky enough to have enjoyed Lansky in its heyday, you will always remember entering through the dank alleyway under a tenement building - instantly grabbing your attention and piquing your curiosity/excitement and then pushing through the velvet curtains into deco elegance. After that I concepted and designed my namesake hot dog emporium, Crifdogs. Many people have stumbled into Crifdogs at 3 am and thought they died and went to heaven - then they ordered a Spicy Redneck and were sure they were going to die. Just awesome. After that, the PDT was the next challenge - a secret underground cocktail masterwork that served Crifdogs and featured many custom-built elements and eccentric interior accoutrements to deliver the best-kept-secret vibe we were going for. If you don't have a visceral reaction when entering one of my designs, I have inherently failed. We all want to feel…anything! Feeling is being alive and being alive should be exciting and fun - when it's not terrifying and hard! I also designed the now sadly gone, Szent & Co., which was an organic oil perfumery where you could create your own custom smell. For that project I created a vintage apothecary with mahogany panels, brass accented shelving and a completely whimsical 5 tiered spinnable gold 'cake' filled with hundreds of oils you could sample - well worth a stop in! These projects were over a span of 20 years given Lansky opened in '97! Damn, I've been around! To add to the design chops, I've been doing invitations, packaging and wine labels for the 15 years or so as well. Everything is visual, unless you're blind, and then it's tactile (and imaginatively visual). The look always matters. ALWAYS!!!!
When brainstorming, how did you begin envisioning the space? What elements were crucial to include?
Because I've know Fair Harbor founders, Jake and Caroline forever, and had worked with you guys on renaming the company a few years ago, I knew exactly where you drew your inspiration from: Fair Harbor, duh! Jake and I sat down and just started hashing out the place we imagined sitting in, and loving, as the pop-up for Fair Harbor. It didn't matter that the space was a pop-up space - the idea was to inhabit the space in such a way, that the pop-up would sprout from the location and re-create its own place within such a large open area like Brookfield. In some ways, Fair Harbor should never be enclosed by four walls - it's all about being in the entirety of where you are, with limitless access in all directions - like being out on the water. Basically we wanted to bring the evocative elements of beach life inside to the mall - less the sand and water (literally). If you push too far into the recreation, you end up with hokey and hokey is no good. The critical and driving central piece of the design was really Jake's main idea - he wanted a lifeguard chair. I loved the idea of building a lifeguard chair from scratch and essentially from my fantasy of what a classic, super-dope lifeguard chair would look like and feel like when you sat in it. I challenge anyone to go to the store and climb up to that chair and not feel like the master of all you survey! The surfboard table was the other critical piece. With our all-white beached out look, the mega-color-pop of that deep yellow vintage long board is such an eye catcher. It's the piece that I think a lot of people would love to have in their loft/beach house/clubhouse/home/mancave/store - wherever - it's my favorite piece. Those two pieces really place you in a unequivocally fun and happy place. Lastly, to bring home the mission of Fair Harbor, the clear box/table containing the base material for creating the board shorts and bathing suits - the plastic bottles. You have to know about the mission to be fully on board, both literally and figuratively ;-).
Once you designed the space, how did you guys actually build it? What did that process look like?
The mock up was created in Illustrator, approved by Brookfield, and then I drove my 1969 Volvo L3314HT (laplander - google it for one of the greatest automotive treats the world has never heard of) to my local lumber yard and grabbed a ton of wood, a and went to my house, put on a snazzy hoody and hit the driveway/garage build area hard. I scratch my chin a lot and think, and draw and start putting the basic pieces in place (literally cutting, screwing, using cables and levels and hooks and trees - I built the lifeguard chair solo and it was a challenge). Envision a modern house in the woods of Connecticut, with a small posse of classic cars perched thoughtfully about, garage stereo daily playing my local college radio station - that god-bless-their-little-hearts never fails to play House of Pain at just the right moment every day. Jake joined the build after we moved the built chair to John's grandma's house for paint (this whole build was a truly all hands and spaces on deck!). Jake managed to be on time every day after his first-day-hours-late-lovingly-stern-talking-to and brought a fresh energy and eagerness to the build. Jake has good ideas and a great attitude, which anyone who knows him, knows 100%. I'm old enough to be Jakes dad, but we do more of an older brother vibe - lots of seriously dirty talk, cursing and worldly pontificating while we draw, cut, think, cut again, screw, glue, assemble, think, eat, go to the store, etc. If you saw a time lapse of the whole thing, you'd see me and jake being pretty damn happy the whole time. I genuinely love Jake and Caroline completely and sincerely - which in the design world is not a conflict of interest - more like harmony of interest - as in, it is in my interest to make their interest and dreams come true. A particularly sweet part of the build process was how excited my little boys, Leon and Isaiah got excited every time Jake was there - it was way cool.
Are there any memorable stories that happened when building?
The whole thing was really memorable - with lots of hell yeah! moments when a piece was finished and we stood back and said, 'we love it'. Building the surfboard table bases was the hardest technical aspect of the build because I often back my way into a design. Making X-shaped stands by eye with no real woodshop machinery takes a lot of creativity and perseverance and a bit of luck. I was most stoked when that table came together. That all said, move in night was pretty epic. Jakes team of lax buds and homies who met us at Brookfield were such a sweet bunch of dudes who probably could have carried a school bus up a flight of stairs if necessary. The pieces were big and heavy so this crew was a true godsend. Jake, John and I worked until 3 am to get everything in place and set up properly. Cold beers and general glee at what was coming together kept the mood pretty light until I all but tapped out. We stood back and looked at what we created with the help of some friends and family and had a really nice moment of deep satisfaction. We got one of the janitors to take a picture of us before we slumped out of there, dead tired and wishing my super comfy organic latex mattress (thanks wifey!) wasn't 75 miles away in Connecticut. It's one of those pictures that you hope become part of a larger history that transports those in it, to a much larger future where you pinch yourself and say, "remember when…".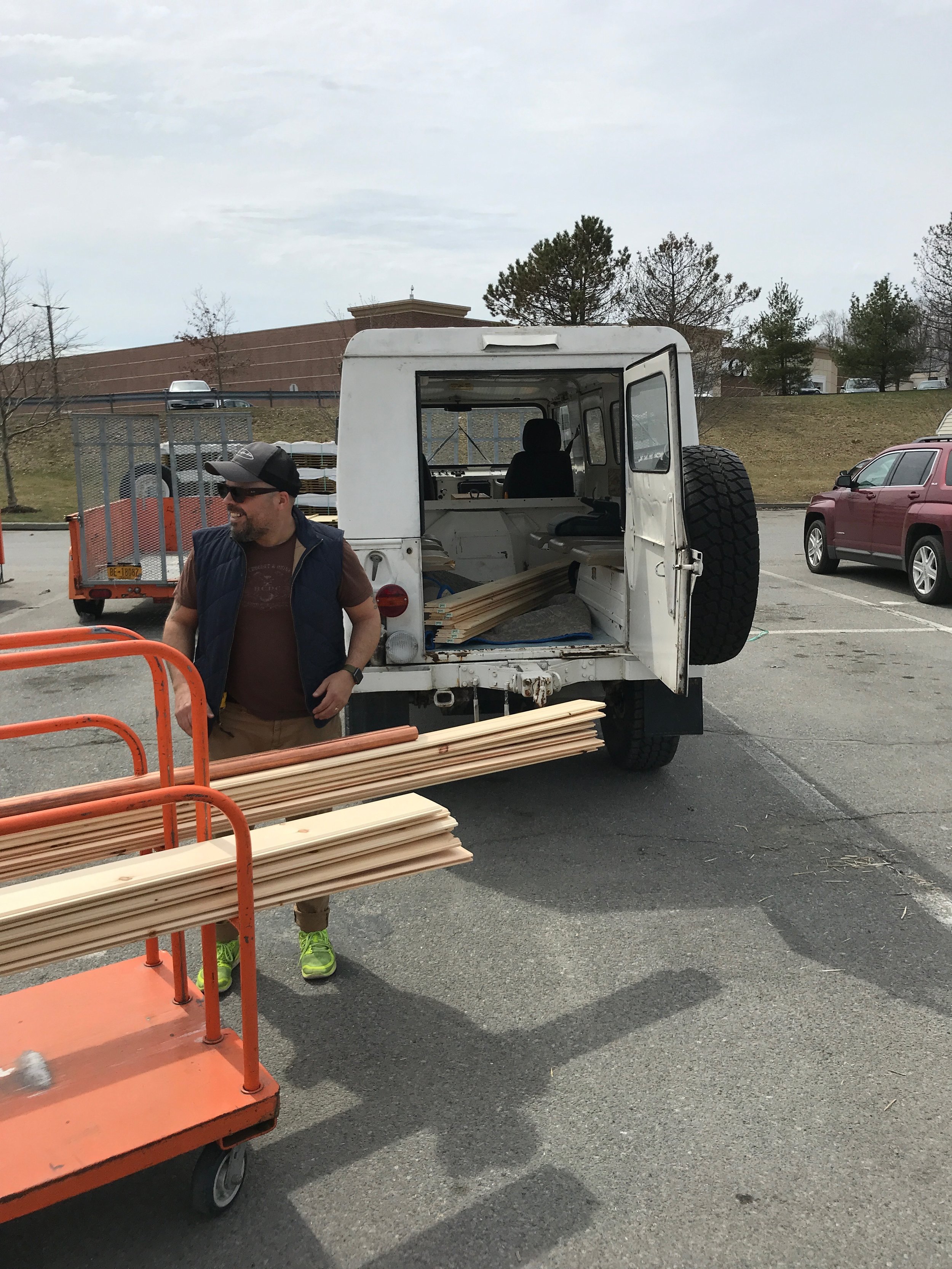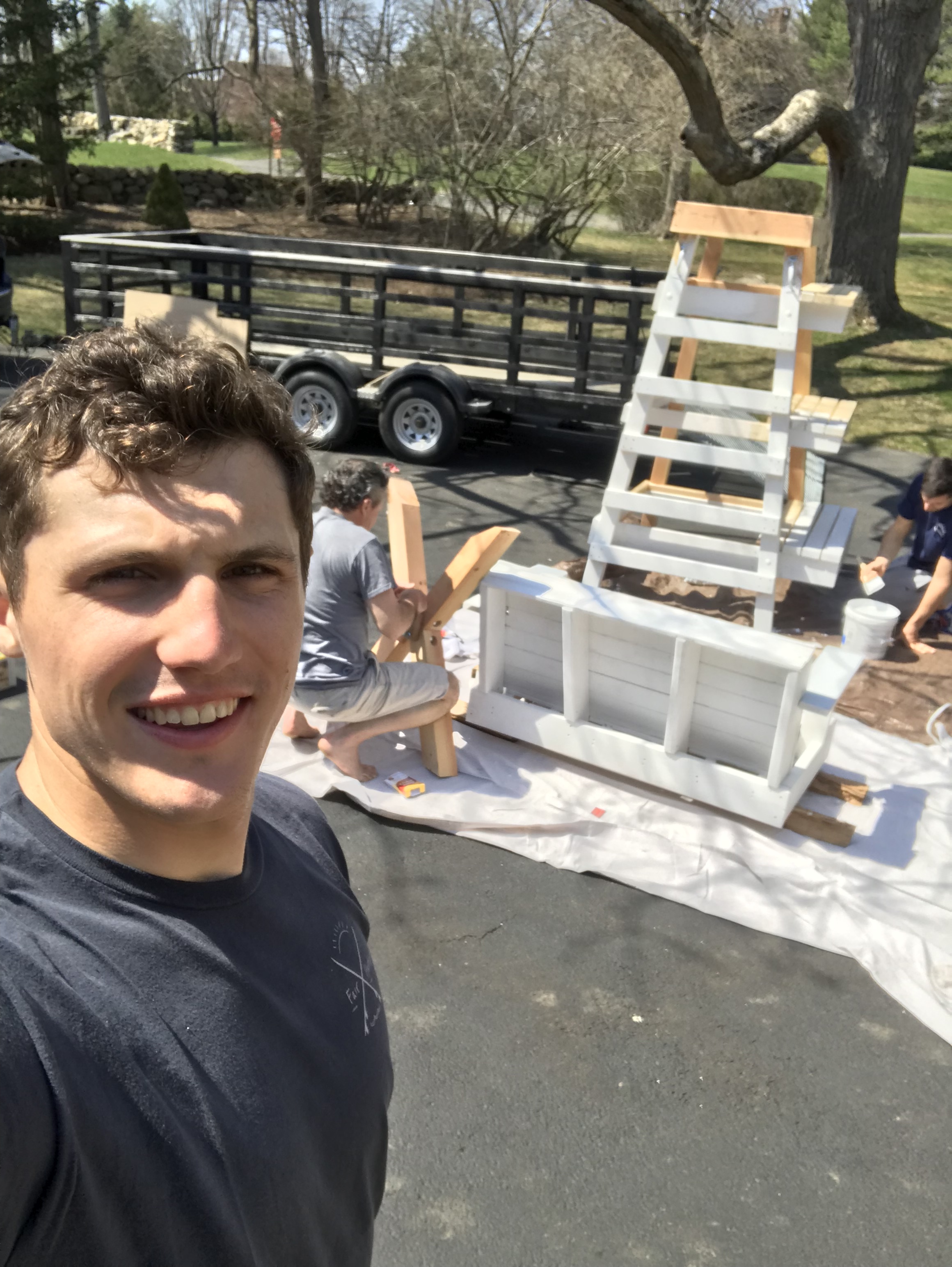 What are some of your favorite parts of the Pop-Up and why?
The surfboard table is just plain dope. Looks cool. Feels cool. Works as intended. And dat yelloooooow - so saturated, like saffron - on the blue straps. The whole thing is like, yes, please and thank you. The board is also a board that Jake has surfed, so it's a sacrifice and part of real history. The lifeguard chair is also my fave. When we were planning there was another location selected with lots of lunch time pass through traffic. I'm an avowed people watcher - hell, one of the best parts of city life is the breadth and variety and quality of whats walking right by you all the time. I envisioned people coming down for lunch and sitting in the chair scoping and lunching. Girls and guys. That said - I think the best part of the pop up is the whole cohesive vibe to it. I think the ethos of Fair Harbor is so perfectly communicated through the pop-up and that, as a designer, is the real satisfaction of a job well done. I truly love the whole thing.
Written by: Caroline Danehy